The Early Action deadline was Friday night and it seems like more students than in the past decided that they wanted to submit an application to UVa early. I'll have some unofficial numbers to share in a few days. Today, I wanted to address a few of the things that keep coming up calls, emails, and blog comments.
1. Admission officers have ALWAYS been flexible around deadlines.
There's a story that goes with this.
Back when I was a college student, I gave a tour to someone who is a bit of a legend in the college admission field. He wound up pushing me to think about working in this world. I went to the admission office at my Alma Mater and begged for a job. After promising to stay at school and work for them over holidays and spring break, they let me join their staff.
On my very first day in the office, probably within the first hour I was in the office, I took a call from someone who had been prevented from applying (I can't remember the reason) and wanted an application sent out. (This was in the dark ages, when we had to mail applications.) The call came after the deadline, so you can imagine my total shock when my supervisor told me to stamp "Late Application" on the packet and mail it out.
Looking back, I have never worked for a school that refused applications after 11:59 PM on deadline night. Even the school I know that is very strict about their application process being followed precisely has a very loose deadline. When something beyond your control affects your ability to submit, we are understanding.
This is probably why the majority of colleges didn't feel the need to make a big statement about extending the application deadline in the wake of reports of Common App glitches. We always leave the application open for a little while after the deadline.
This is pretty standard in college admission.
2. Applications are transferred electronically once each day
.
There were several comments and emails over the weekend about the date "stamp" you are seeing on your application when you log into your Common App account. There could be lots of reasons why your account says you submitted a day after you did, but the bottom line is that if there's something there, your application was submitted to us.
Common App has a scheduled delivery once per day for us. Be aware that if you hit submit after the day's transfer, we'll be getting it the next day. This isn't anything to worry about.
3. Counselors and teachers have a different deadline.
I was a little surprised that I got a slew of emails from people panicking about teachers not submitting recommendations by November 1st. November 1 is your deadline. Teachers and counselors have so much going on and it seems like more and more students are leaving the recommendation assignment to the last minute (back in my day, you were expected to give forms to your teachers/counselors about a month before deadline). No one is in trouble if the recommendations come in after deadline.
4. Application components accumulate in your file.
More than ever, people seem very worried about the different components of an application getting matched up in the admission office. With a few exceptions, the different components of applications have always arrived separately and get reunited in the student's file.
Back in the day, there were schools that wanted to applicant to send everything in one envelope, but plenty had a stack of envelopes in the application that students would distribute to their counselors and teachers so credentials could be mailed separately.
These days, things are much faster. Everything that is submitted electronically through the Common App is already tagged with your basic information. Our system knows how to file everything that comes in electronically. Everything that comes by mail is scanned into the system and then filed.
The process is much faster than it was in the paper days! Back then, this is where we put items send for students who hadn't applied: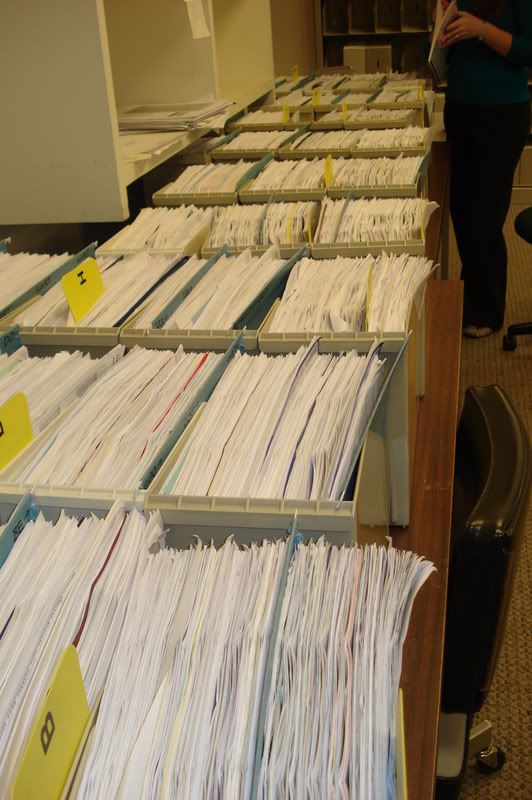 This is what about 16,000 applications looks like. Imagine how much more space we'd need for the 30,000 applications we'll get this year!